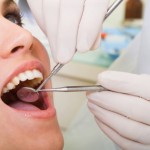 Dental professionals are dedicated to caring for your comprehensive needs.
In our office, the first visit involves listening to your "Chief Concern" and addressing that first, then proceeding to other relevant findings.
The general dental check-up is for your own knowledge, health and prevention.  We make every effort to inform and show you what's going on so that there is no guesswork or confusion.  And mostly everything can be done in our own office, from cleanings to fillings, crown/bridge, extraction and root canal therapy.
On occasion, a patient will need help beyond the scope of general dentistry and we refer them to a team of trusted experts/colleagues. From endodontist (root canal specialist) to periodontist (gum doctor), to oral surgeon (wisdom tooth expert), we can point you in the right direction and give you a personal recommendation based on our experience with that practitioner. This is called a referral.
Our office also works closely with a denture expert who coordinates treatment with us and creates beautiful dentures that keep patients smiling! It is truly remarkable how teamwork plays a role in this process.
We believe that the superior strength, longevity and custom shade/anatomy work done by a lab technician is what defines a crown or a bridge. This cannot be mimicked by an in-office crown milling machine such as CEREC, which is convenient, but less predictable and less esthetic, materials more likely to chip or break.  Our goal is to give a patient the best outcome possible, even if it means spending a little more time.
From emergency visits to new patient exams and check-ups, our #1 goal is to be ready to take care of you no matter what. That is our patient promise. We don't turn away emergencies and we aim to accommodate your busy schedule.  Everything falls back to customer service and a terrific patient experience.