Northgate/Shoreline and Mill Creek dentist Dr. Ilona Furman is a proud Washingtonian. She followed her childhood dream of becoming a dentist by volunteering, dental assisting, and working for local area dentists and orthodontists while going to school.  Dr. Furman graduated from the University of Washington undergraduate program in Biology. She attended the prestigious University of Washington School of Dentistry, ranked among the top three in the United States. In 2012 she opened her first family-owned dental practice in North Seattle from scratch with just one employee. In 2019 she opened her second satellite practice in Mill Creek Town Center. Today we have a highly skilled team of thirteen healthcare professionals representing both locations.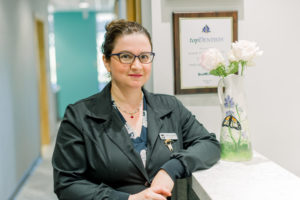 These days the team at All Smiles Family Dentistry devote countless hours to continuing dental education; we are finding ways to incorporate innovative therapies and customer service skills into our daily practice.  Our office is paperless, eco-friendly, modern and advanced with the latest technology to enhance the patient experience (see the Technology section).  Before opening All Smiles, the doctor worked as an associate dentist in a private practice that used CAD/CAM machines to design, fabricate and seat custom crowns in one visit. Dr. Furman spent two consecutive years doing dental research on Enamel DNA Sequencing and Tongue Thrust with the SURF Program.  In 2008 she presented her research at the IADR  National Meeting in New Orleans, Louisiana.
 "Giving back to the community is really important to me because nothing is more rewarding than seeing someone smile.  There is a great responsibility in preventing dental disease and also managing it appropriately.   Whether I'm teaching kids about proper oral hygiene at school or volunteering annually at the Seattle/King County Free Dental Day, I really enjoy what I do." – Dr. Furman
 In her spare time, Dr. Furman enjoys playing tennis, painting with acrylics and watercolors (see below),  taking photographs, and exploring the beautiful Pacific Northwest with her husband, daughter and son. She is fluent in Slavic languages and can speak some Spanish. In 2019,  Dr. Ilona Furman was honored as Top Dentist by her peers and colleagues in Seattle Metropolitan magazine.  Her Top Dentist honor has been received for 2020, 2021 and 2022, as well!
In 2021, Dr. Furman and her lead assistant had the unique opportunity to take a certification course on Botox® therapy for therapeutic and esthetic purposes– learning techniques to relax muscles of the head and neck to relieve orofacial pain, TMJ, clenching, grinding and headaches.  Dr. Furman also did training for Botox® and dermal filler use on the face including lip enhancement, elimination of crows feet, marionette lines, folds around the nose and forehead.  Botox® has many beneficial uses in the dental realm.  Dr. Ilona Furman is a proud Associate member of the AAFE – Academy of Facial Esthetics.
She is also a member of AACA – American Academy of Clear Aligners – for Invisalign Clear braces.  All Smiles Family Dentistry is a Gold Preferred Provider for Invisalign® Clear Braces!