Northgate/Shoreline and Mill Creek dentist Dr. Ilona Furman is a proud Washingtonian. She followed her childhood dream of becoming a dentist by volunteering, dental assisting, and working for local area dentists and orthodontists while going to school. Dr. Furman graduated from the University of Washington undergraduate program in Biology. She attended the prestigious University of Washington School of Dentistry, ranked among the top three in the United States. She opened two practices from scratch in 2012 and 2018, respectively. Her design experience and knowledge of CAD/CAM technology spans over a decade.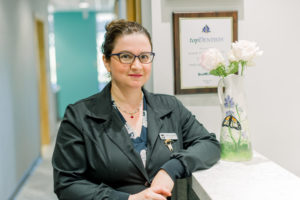 "Continuing education drives my desire to deliver the best quality of care to my patients. I spend over a hundred hours every year learning advanced skills. I am happy to offer patients same-day treatment options." – Ilona Furman, DDS
In her spare time, Dr. enjoys volunteering at King County Free Dental Day, mentoring aspiring dental students, playing tennis, painting, taking photographs, and exploring the beautiful Pacific Northwest with her husband, daughter and son. She is fluent in Slavic languages and can speak some Spanish. She received Seattle Met Top Dentist honor for 2019-2023.
Her favorite hobby for over 30 years has been watercolor and acrylic painting. "I love that art and dentistry go hand in hand. Focusing on the small details brings me the greatest satisfaction!"
Dr. Ilona Furman is a proud Associate member of the Academy of Facial Esthetics – receiving Level 2 certification to prevent clenching/grinding using injectable therapy. She is also a member of American Academy of Clear Aligners / Invisalign. She is also a member of the Academy of Oral Medicine and Toxicology aimed at protecting public health and the environment through safe office practices.
All Smiles Family Dentistry is proud to be a metal-free practice using the highest quality of materials.
In 2023, Dr. Furman was awarded an achievement plaque at the iOX Digital Dentistry Conference in Irvine, California for completing over 750 advanced level CAD/CAM cases in Smile Design and Same-Day Smile Enhancements.