Welcome to our beautiful dental office in the heart of Mill Creek!
All Smiles Family Dentistry
@ Mill Creek Town Center
Above La Palmera Restaurant – Take Elevator to 3rd Floor
Next To Sullivan & Bastian Orthodontics
15224 Main St #303
Mill Creek, WA 98012
425-908-7550
Hours of Operation: (Closed For Lunch Daily 12-1pm)
Monday 9am – 5pm
Tuesday *NEW* 9am – 5pm
Wednesday 9am – 5pm
Friday 9am – 5pm
Saturdays- By Appointment
Our modern dental clinic is unlike any other.
Here's why:
Dental Water Purification System

Safe and clean drinking water. Every procedure, every patient, every time.
Strict infection control and clean surfaces.
No bottle system. Vista system filters out contaminants from the City water to make it pure, fresh and ecologically friendly.
Unique biophilic office design inspired by nature.

Eco-friendly, Environmentally-Conscious Office

Patient entertainment in every room
Save time and money- all of your dental needs in one place!
Electronic check-in forms, fast and easy! We save trees
No paper charts so less contact with surfaces. We are fully digital.
Low radiation X-rays with digital Panoramic
Intra-oral imaging to show the patient what is going on
3D scanning – No goopy impressions!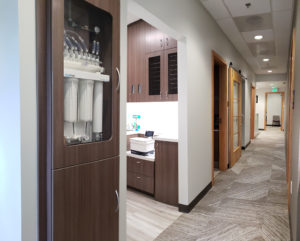 Same-Day Emergency Care & Dental Relief

Extractions and root canal therapy
Treatment of broken teeth
Pain and infection control

We take care of anxious patients & those with dental fears

Advanced training from the University of Washington School of Dentistry
Childhood and personal dental experiences drive Dr. Furman's passion to help others
This is a judgement-free zone where our goal is to get you back to health
Sedation therapy is offered
Our dental massage chairs have been described as producing "amazing results in lowering anxiety" (similar to EMDR therapy)
Experienced team, UW Dental alumni, 12+ years of experience

Gentle lady dentists with small hands and caring demeanor
Family owned practice (not part of a chain)

Easy-Financing

Most insurances accepted
Flexible payment plans available (interest-free up to 6 months)
Care-Credit up to 12 months!
$199 NEW PATIENT SPECIAL: No insurance? No problem!

Get a comprehensive exam, professional teeth cleaning, digital X-rays, and fluoride (cavity prevention) treatment! BEST Deal!

Senior discounts
We will take care of you! 425-908-7550, call us today! Or email: help@asfamilydentistry.com
FREE Parking All Around

There is a free parking lot behind our building (West), and there are 2 levels
Elevator is on the opposite side of the building (East, facing Main St.) — give yourself 5 minutes to find the elevator
You can park at any adjacent lot including our neighbors, Boston's Restaurant
Mill Creek Town Center is an open-air mall, walkable and easy to get around,
We're in the same building as Poke and Bubble Tea!
Street parking is free and abundant

We Are Accepting New Patients!

No insurance? Join our Membership Plan and get big savings!
Have insurance? Our dedicated team will be happy to check your benefits- free!
Use your insurance benefits before they're gone!
When sending an online request, be sure to mention: Insurance company name, Subscriber Name and Date of Birth. Member ID, if you have it.
Click below to reserve your appointment!