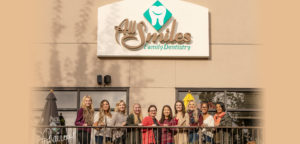 We would like to answer some of your pressing questions in light of the office closures mandated by Washington State officials and Department of Health.
Q: Why are you closed until May 18, 2020 for non-urgent appointments?
A:  We are complying with CDC, ADA and Department of Health guidelines to limit the spread of COVID-19 by keeping our staff and patients safe. Quarantine is mandated. On March 17, 2020, Washington State Department of Health posted a letter stating that dentists should: "postpone all elective and non-essential dental procedures to minimize potential for healthcare transmission of COVID-19, and to mitigate limitations on availability of PPE for healthcare personnel caring for those with COVID-19.  Dentists should prioritize seeing only patients with dental emergencies defined as:  Dental care related to the relief of pain and management of infection" — MORE ON THIS BELOW —
Q: What if something happens and I have a dental emergency – tooth pain and/or swelling?
A: At this time we are triaging all emergency patients to our local specialists who have swelling and/or tooth pain with possible infection.  For your safety, we have doctors who are equipped with N-95 masks that can see you rather quickly. Please email us to get the referral:  help@asfamilydentistry.com.
Q: What if I get a root canal or need my tooth pulled, what happens next?
A: After you see the specialist please email us to schedule the Restorative phase of your treatment.  This is anything from a crown, implant crown, filling, bridge or denture. We would be happy to reserve a spot for you, and/or guide you through the treatment options.  Email: help@asfamilydentistry.com
Q: I am wearing  a temporary crown. Is that OK to leave it for a month? What if it is loose, chipped or cracked?
A:  It is OK to wear a temporary crown for 1-3 months, especially if there are no issues with it.  If the temp is slightly chipped but otherwise in-tact try to secure it back with: toothpaste, vaseline, denture adhesive, or the best option is to get TEMP-BOND at the local drug store.  If the temporary crown breaks and you cannot wear it, avoid eating hot, cold, crunchy items on that side until you can be seen.  Continue with oral hygiene and try to use Sensodyne toothpaste if you have it.   If you are experiencing pain or swelling, please let us know immediately at: help@asfamilydentistry.com.  We are working closely with the labs to coordinate timely care for all patients.  Due to State of Washington stringent rules on "non-urgent" appointments, we want to keep everyone safe due to the lack/ global shortage of N95 masks during this COVID-19 pandemic. Thank you for your patience and understanding!
Q: What kind of protocol are you taking to ensure infection control?
A: We are one of the only clinics in the State that use VistaClear Water Purification System that cleans out contaminants from the City water. We ran a system shock in March 2020 to clean all of our lines and pipes.  Our office is disinfected on a daily basis with dental-approved surface solutions that kill bacteria and viruses. We use PPE. All patients and staff are required to wash hands with soap and water. We have state-of-the-art modern equipment, eco-friendly and digital. We do not use paper charts in the office so we have minimized contact with surfaces that are touched by others.  Furthermore,  * We are pre-screening patients by phone prior to their visit for specific COVID-19 symptoms * We are asking patients to email paperwork and stay in the car until we are ready for their appointment * We are cleaning and disinfecting public areas frequently, including door handles, chairs, bathrooms, and removing all reading materials and children's books from the waiting rooms * We are taking temperature of all patients upon arrival.   We care about your safety and well-being.
Q:  What do I do at home?  How can you relieve my anxiety, stress and fear amid these crazy times? Do I need a Bite Guard?
A:  Don't panic!  You'll be OK.  You might need a custom bite guard to help from grinding and clenching (day and/or night) from all the stress.  We've got you covered ..after the quarantine period ends.  Our office works with a reputable lab to make you a custom, long-lasting and durable night guard that helps protect your teeth from breaking and wearing down.   Using the 3D scanning and disposable 1-time use shields, we eliminate goopy impressions and avoid contact between people.  Here at All Smiles Family Dentistry we have dental massage chairs, anxiety blankets, stress balls,  TV entertainment, disposable one-time use ear plugs, and very strong infection control protocol.  Our team is trained to handle emergencies in a comfortable manner to minimize your time here.  We still recommend bi-annual check-ups and cleanings.  In the meantime, our doctors and hygienists recommend diligent home care that consists of using an electric soft-bristle toothbrush, fluoridated toothpaste such as Crest, Colgate or Sensodyne,  and daily flossing with Oral-B Glide (or something similiar)!
If you have any other questions please email us: help@asfamilydentistry.com
Thank you again, and stay safe.
We look forward to seeing you soon 🙂  ~ Your Trusted Team At All Smiles Family Dentistry