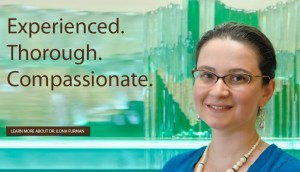 We recognize the need to have amenities that ease your stress.  We all know going to the dentist can be unpleasant but …it doesn't have to be!  Our team works hard to make your experience enjoyable from the very first visit.
It starts with the environment. Tranquil, unique, light, artistic. Those are just some adjectives that patients use to describe our clinic when they first walk in.  From the teal glass countertops to the Pacific Northwest glass blown mural & Dr. Furman's original art pieces, you probably will never see an office quite like this.
Heading toward the back patients appreciate the comfortable dental chairs, private secluded views of plants and birds through the large windows, and sneak peeks of sun and blue skies on special Seattle days.  Our office is fully digital and eco-friendly; we don't use outdated systems like most offices that still have paper charts– we are proud to go green!
When you're in the chair we provide warm blankets and back pillows as well as lavender neck wraps and a variety of the latest magazines:  pop culture, current events, history and kid-friendly reading books.  Our friendly team members are happy to bring you a warm cup of tea or coffee, or water. There's a treasure chest for well-behaved kids and a sugar-free candy jar for well-behaved adults.  Haha!
We look forward to meeting you at All Smiles Family Dentistry. Schedule your visit today!  206-659-4888