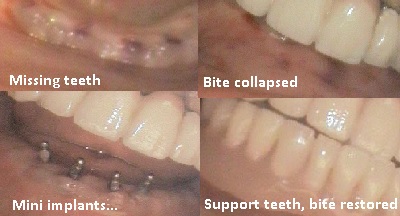 Do you struggle with missing teeth, have difficulty eating, or know someone who does?
There is a revolutionary treatment with mini implants that makes a huge difference in people's lives.
The mini implants are placed in a minimally-invasive surgical procedure in one short visit to the office!  The recovery is pretty quick and painless. Some patients even forget they had anything done.
The implants provide stabilization for a larger prosthesis that would otherwise not hold.  If you have a denture we can fit it to the implants, or make a brand new one. Mini implants can also support bridges and single teeth, in special cases.
Mini implants are covered by insurance and are less expensive than standard implants because of their smaller diameter.  The picture you see is from one of our patients who is now able to smile, eat and speak with more confidence!
Call for a consultation / initial exam today to discuss your options with Dr. Furman.
206-659-4888, email:  info@www.asfamilydentistry.com