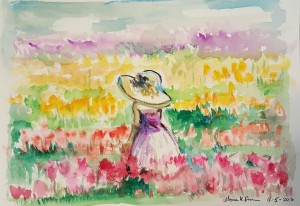 We are so excited that it's spring!  Sunshine, flowers, nature walks!  Dr. Furman felt inspired to paint these watercolor pieces (2 series) "Spring Delights" after strolling through parks and flower gardens with her toddler.
Spring is a time of rejuvenation and refreshment!  We are thrilled to say our awesome hygienist Anna is with us on Saturdays taking care of patients to help give you a bright, healthy smile.  And we are introducing clear custom trays for both tooth bleaching (whitening) PLUS cavity prevention (fluoride application) as an additional therapy to our patients.
Dr. Furman has taken over 20 hours of continuing education classes in the last month and is super thrilled to introduce the latest technology for cavity detection and root canal therapy to our practice. We are always thinking of ways to better improve the patient's experience.
Give us a call to set up your next appointment. We have two wonderful doctors to serve all of your dental care needs, including Fridays and Saturdays!
206-659-4888, info@www.asfamilydentistry.com
#DentistArtist  #PatientFocus  #All Smiles  #Spring  #DrFurmanArt